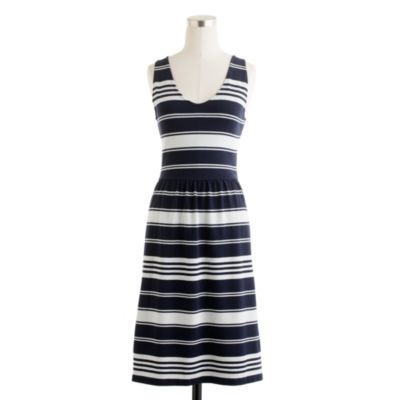 Many people sung praises of the Villa dress. It has an easy shape, substantial knit, cute buttons down your back, good length and pretty colors. Now that it dropped in price significantly, what's not to like?
Size Medium
I have tried it previously in Small and it was too skimpy in the chest area. This caused it to ride up and made it shorter and high waisted. After reading a lot of glowing reviews I though that maybe I overlooked it too fast and decided to try on the Medium.
This shade of green is absolutely succulent and flattering. I don;t have anything green in my summer closet and I thought I could use it.
So far, so good. You can see some gaping in the armpit area but maybe not too terrible...Size Medium has a good length and the waist falls in about the right place. Is this a winner after all?
Well, no...
No, it is not. Not if you are bigger than a B cup I am afraid. I am 34D. I don't think Victoria Secret would like me to advertise their Dream Angels Bra in hot pink. Enough said.

Just thought I would post a warning in case you are, ahem, better endowed and you were lured by the siren call of Villa. Especially that it is now final sale. Don;t go there.
***
That's all folks!
Do you own Villa dress? Do you like it?
Please share, it would be no fun without you!!!