I ordered Tippi cardigan and Painter Boatneck Tee as ride alongs to get free shipping on some sale items, plus I was curious how they fit.
Size Medium
I would say the
Painter boatneck tee in stripe
fits TTS. I am in between Small and Medium and this one is quite fitted in Medium, so I would not size down. I liked the weight of slub cotton, it was not see through and it felt very soft. I like this shirt much better than more pricey one that I ordered from Chance. The gold buttons are a nice touch. I agree with a copy that you can wear it alone and layered. I would love to get it on sale at one point but I think I have enough stripes. Still, I don't have any Red stripes....
Stripes Overload!!!
Also, see Cate's review of an orange version
HERE
.
***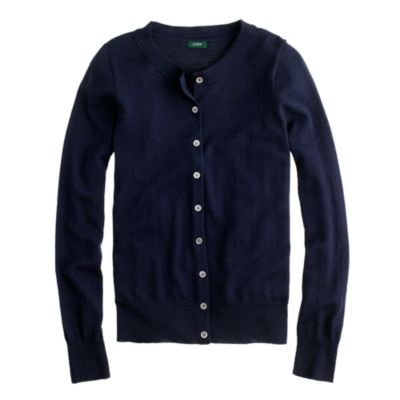 Tippi cardigan
The Tippi cardigan has a basic shape and TTS fit. I ordered a Medium and this is the size I would get. It is quite fitted when buttoned but it still has some room, which I like in sweaters. It does not suffer from the 'skinny arms' syndrome. I was surprised how soft the knit felt, almost like cashmere. I always thought most merino sweaters are too scratchy for my comfort but not this one. Of course I was trying it with a long sleeve shirt underneath, so maybe that's why?
Size Medium
The fit is nothing special, but if you need a basic navy cardigan and you are not afraid of 'uniform vibe', I highly recommend. It is on my list for the fall. Strangely enough, I don't have a basic wool navy cardigan and I consider it nice alternative to cashmere, cheaper and less pill prone. The length seems versatile and it should go well with both trousers and dresses/skirts.
Very nice basic
***
That's all folks!
Do you like Tippi cardigan? How about painter tee?
Please share, it would be no fun without you!!!