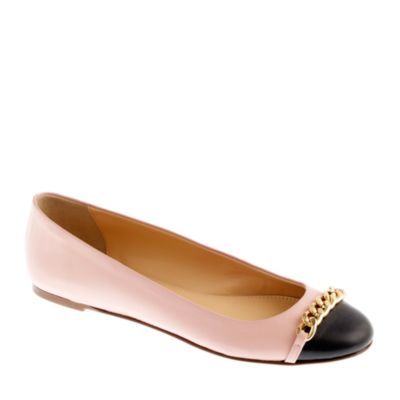 I like the look of those shoes from the time I saw them in my store couple of months ago. I think it is the combination of delicate pink with black cap toe that got me. Of course, they have that Chanel-esque vibe that I find hard to resist.

I wanted to review them in case you are contemplating getting them at current sale price minus 30% LOVEIT promo, bringing the price down to $84, which is not bad if you like the shoes.




They fit TTS, imo. I am usually wearing 8.5 in heels and sometimes 8 in ballet flats and I tried on both 8 and 8.5.

8 was better in length but it was pinching me at the top of the toes and on the side where I developed an ugly bunion :( 8.5 felt better with bare feet but they would slide off with socks or stockings. If you have medium to narrow feet and you are in between sizes, definitely go with your smaller size.





They ahve a little bit of toe cleavage but not too much.




They have no support or padding and thin soles. But, if you can wear regular ballet flats you will be just as comfortable it these and they are very pretty imo.




I would love to wear them with black capris and light pink top or even all black and just pink necklace.



***

That's all folks!




Do you wear ballet flats?

Have you considered Nora cap toe chain ballet flats?




Please share, it would be no fun without you!!!