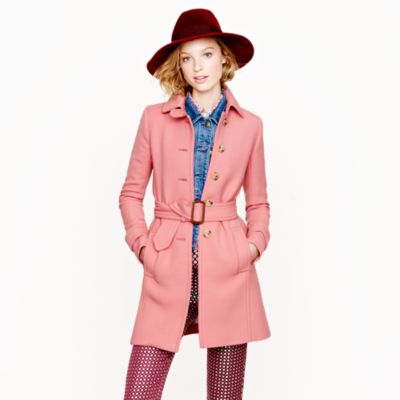 On Trend Orchids
. We met at the Garden State Plaza mall. I tell you, it is always a delight to meet with a fellow JCAs!
On my way to J.Crew, I noticed that some stores (like Ann Taylor) were running 30% off everything that night, but J.Crew did not offer any promotion to celebrate. Full price cashmere was 20% off, but that is not such a great deal imo. Since the J.Crew cashmere is overpriced to start with, I don't think 20% off even brings it down to the fair price. The store was rather empty and I did not see anything new.
We didn't found anything to buy, but we chatted up a storm and had some tea together at the nearby Nordstrom cafe. The only thing that caught our attention at J.Crew was a
Double-cloth slim trench
and I decided to quickly try it on. To my surprise I really liked it.
I never thought I'd wanted a pink coat, but this color is very flattering and makes your skin glow. It would look great with black, brown, camel and blue and would be very striking with burgundy.
It is a shorter trench and probably looks best with pants. I think the length (and overall silhouette) is similar to Icon trench coat, so if you like it, you'd like the length of this one. I am glad that it is not double breasted, makes it easier to wear it open, especially that it is not a terribly warm coat. For some reason, I didn't dig the double cloth fabric last year, but it felt nice in this coat. I am not saying that it has changed, it may have been just the color (or being in a good mood), but it also seemed more substantial. It has a nice lining and piping inside, I liked the sleeves, the pockets and the buttons. The belt is too short to tie, you have to belt it and I wish it was longer.
I would say it runs TTS in J.Crew coat sizes. I tried on size 6, which is smaller of my coat sizes. I was comfortable, but I only had a perfect fit t-shirt on. If I was in a more-buying-than-trying mode, I would like to compare it to an 8.
Size 6
The color makes this coat! If you are afraid of pink, or you think it washes you out (this is often my problem), you needn't fear, it is a rosy pink, saturated enough not to wash you out and not too pastel-ish or too sweet, but still reading light, delicious pink. Definitely, color well done.
I remember that I also saw a not-yet-online pink scarf with burgundy flowers. It was very pretty and I think would be perfect with this coat.
KnitYarns took this picture, she definitely made me smile!
I am not in need of a coat (repeat: DO NOT NEED ANY MORE COATS!), but if I ever see it on significant sale, it may be hard to resist.
Have a great weekend everybody! I am dropping off my daughter for girls scouts camping trip tonight, so hubs and I have a house to ourselves! When we were teenagers we had a saying that translated to something like 'Old folks are gone, house is ours, turn the party music on!' I guess we have gone full circle with this... We will be meeting up with some friends tonight and I am thinking dinner AND a movie tomorrow, it should be fun! We'll see about the party ;)
***
That's all folks!
Do you like the Double-cloth slim trench? Pink coats in general?
What are your weekend plans?
Please share, it would be no fun without you!!!