Today is the last day of the STYLE25 promo at J.Crew. If you spend $150 you can apply 25% off and get free shipping. Also remember, that Shopathome has 8% rebate and if you have a credit card reward program you can get close to 40% off.

This offer also applies in stores and at is valid on both full price and sale items. It sounds pretty good, especially if your purchases were already on you list and you like to wear them the whole season. It may also be a good time to stock up on basics, that rarely make it to the deep sale. Will there be more sales and cheaper prices closer to Holidays? You bet! I would definitely NOT worry if you miss this sale, I am sure there is more to come :)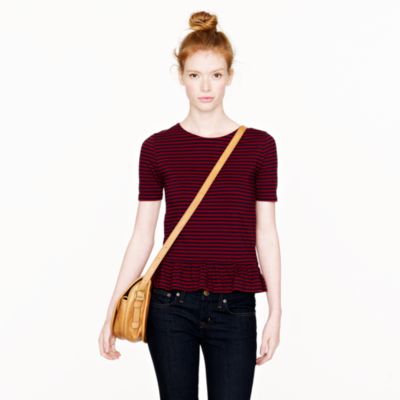 Size Small
It is a cute top and the fit is generous. I took the smaller of my sizes and it still had plenty of room. I wish it was solid not stripes and that the peplum was a little higher and longer. I still liked it though.
When I tried in on with pants (sorry no picture), the ruffle was hitting me in an off place on my belly. I think it is better with a skirt. It may be just me, and if you have flat stomach, you will not have the same issue. It wasn't bad, but again, I think it would have been better with the peplum starting higher and being a little longer.
In Black
The knit is nice and substantial enough. I thought I would like the burgundy better, but I liked the black and black and white stripe more. Of course, black and white stripe is the last thing I need more of in my closet...
Vintage Burgundy
Overall, I have to say J.Crew missed the boat on the peplum trend. I am surprised they don't have few other options.
The need must be there, since this top sold out on the very first day (they probably just did not order enough) and it is backordered until late November. I can almost see Mickey in the boardroom (or on the load speaker) asking 'Why don't we have more peplum? Can we put something together really soon? Cut off the bottom of this stripe tee and slap it on as a ruffle? Think fast guys!'.
Size Small
This is nothing new and J.Crew has been making those tissue turtlenecks for years. I have several. They are great under (itchy) sweaters. Soft and comfortable, fit has not changed, and it is TTS. The only thing about them is that they are tight around the neck and will definitely mess up your hair when you put them on.
Bohemian red
I wanted to try Bohemian red because it looked very cute in the Lookbook with the pink herringhbone suit. I did not try it with that particular pink but I had a light pink Tippi sweater in the fitting room and the pairing absolutely did NOT work. I kind of like it looking at the pictures now, but I remember that I was not tempted at all in the fitting room.
This may be misleading. Somebody asked me how can I try all those things and not buy a ton. Well, I wonder if other bloggers here would agree, but for me, trying several items on is actually one of the best shopping deterrents. I am usually so cranky from all this trying on and changing that everything seems ill fitting and nothing tempts me. By the time I tried on 15 items in 2 different sizes and photographed everything including tags, I just want to get out of the store as soon as possible.
***
Colorblocking and stripes, all in one, I had to try it!
Size Medium
This top looks nice in the picture and great with the crimson maple skirt imo but irl I was disappointed. I know we have been complaining about knits being too thin but this tee had an opposite problem. It was stiff and did not drape well. It was loose in the body and tight across the chest. The sleeves were too wide. I am not sure if I should say it fits TTS, small or big. Probably better if you are pear shaped and usually find the sleeves too tight. Oh, and I forgot the exposed zipper that I had trouble zipping up.
Boy, I really do sound cranky, sorry. Needless to say it was a pass.
***
What do you think?

Do you have enough stripes?
How about peplums?

If you are a blogger, does trying things on make you buy more or less?


Please share, it would be no fun without you!!!