If you read my last post, you know that Colorblock check mini was one of the items that caught my attention in the recent J.Crew online rollout. I liked the colors and the concept and I thought it may be a fun skirt to wear with tights and sweaters in the winter. I was only afraid that it may be too short and I was wondering if I could size up to wear it lower on my hips.
Size 8
Well, I had a chance to try in on and, unfortunately, I don't think I can make it work :(
The skirt is 18.5" long and it has a small, defined waist. I am wearing size 8 in the pictures, which is 2 sizes up from my regular pencil skirt size (4) but the skirt is still sitting pretty high. I think it is becasue the waistband is straight (same size at the top and bottom), so it tends to sit at your narrowest point.
Of course, the sample skirt that the model is wearing is a little longer. You can see it if you count and compare the caramel horizontal stripes. I would prefer that they use the actual retail items, at least on the website, if not in the catalog. Sigh.
I am 5'6, 33" inseam
It is a cute skirt and if you are shorter or can rock a mini it will look great. I would recommend sizing up unless you have a tiny waist, the skirt does not seem too voluminous.
I liked the top portion fabric better. The darker part seems a little more fuzzy and blanket like, which I don;t care for. Lining is nicely matched in color. It has no vent and side zipper. Too bad it has no pockets.
There is also at least inch and a half that can be let down. If you are about 5'4 I think the length will be just above the knee if you let the hem down. If you are 5'2 or under you can probably wear it as is. Of course all depends on your proportions.
For me personally, this skirt is off the list.
***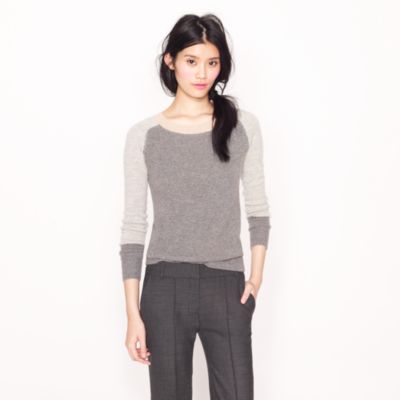 I also tried the
Collection cashmere waffle colorblock sweater
.
Size Small
I was totally underwhelmed.
The fit is OK, it might have been better in Medium but they did not have it. I would say it fits TTS for J.Crew, I am usually in between Small and Medium. I would probably prefer Medium , I usually like my cashmere roomier, also to allow for some shrinkage (I hand wash it) .
The colors did nothing for me and I usually like grays. It may be the sand/beige neckline that was washing me out. I did not like the colorblocking effect. Maybe because it was subtle and did not feel intentional? The red and navy version, on the other hand, was very Kindergarden to me.
The sweater was plushy and soft. For some reason it felt a bit scratchy but maybe it was just because it was hot.
I am pretty sure this sweater will make it to sale, I would never pay full price for it.
***
That's all folks!
What do you think of the checked skirt and the sweater?
Please share, it would be no fun without you!!!
I have more reviews coming up soon, including some interesting not yet online items, so please stop by again!