Last weekend I went shopping with my friend. She is not into J.Crew and is more of a Banana Republic gal, so we went to BR, Ann Taylor, Lord & Taylor and DSW. We were able to find a few summer tops for her, a couple pairs of shorts and a pair of shoes. The selection in those stores looked good, but nothing really caught my attention, except for one dress at Ann Taylor, which I will have a separate post about.
We had lunch together and we finished it with nice frozen margaritas. It was a lot of fun. I was not supposed to shop for myself, but after we parted, I decided to stop by J.Crew and try some things on. I did it mainly for this blog, as I feel totally shopped out at this moment.
This was in a different mall from the two I usually frequent and it was fun to be more anonymous and not have all the SAs greet me by my first name.
I did not have much time and I was tired from already shopping for a few hours and a little giddy from my drink. I also felt like I have already tried everything in the store, but I managed to select a few things.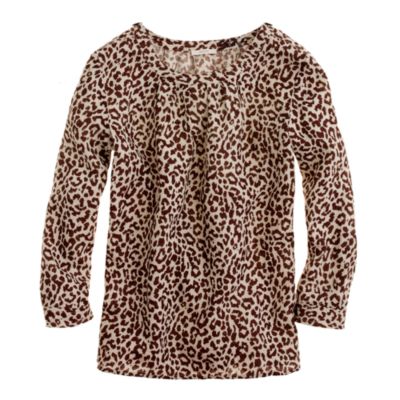 I tried this top before in red (see it
HERE
) and I liked it a lot. I wanted to try the safari cat print mainly because it is on sale and I thought some of you may be considering it. Also see it
HERE
on Gigi.
I do like the fabric and the shape of this top. It is very nice for summer, and the colors of the safari cat are very flattering and easy to pair with any color. I would treat it as a neutral. Of course it maybe too much of an animal print for some of you, but I think the print is rather subtle, at least as far as animal prints go.
I took size 6 in this top and I had plenty of room. I have been sizing up to 8 in a lot of tops this year, so I would say this one runs big. Specifically, it is not as big in the hips but there is plenty of room in the chest.
I am obsessed with white recently and I have been trying white everything every chance I get. I don't know why, because I certainly have enough white in my closet for several summers ahead. But on Memorial weekend we went to the beach and I was wearing all white outfit and both my shirt and shorts got awfully stained and ruined by the sunscreen. After I checked it out on the Internet it seems to be common occurrence, but it was a first time it actually happened to me and I was really upset about it.
I was not successful in getting the stains out, so please let me know if you know the trick. The stains were not visible until I put the clothes in the washer, apparently there is something in the water/detergent that activated them.
So anyway, this is my excuse for trying on more white. Hey, any reason is good, lol.
Chinos size 6
These were called broken-in-scout-chinos in store, so I am not sure if this is the same thing as plain scout chinos on the website, but I like how they fit. I tried on a 6 and they were good fit. This is size up from many of my other pants in J.Crew, but I like to size up in white pants.
I really liked the look and they were very comfortable. If I really needed a pair of white capris ( I don't, I don't ) I would be happy to buy them (better yet with some discount).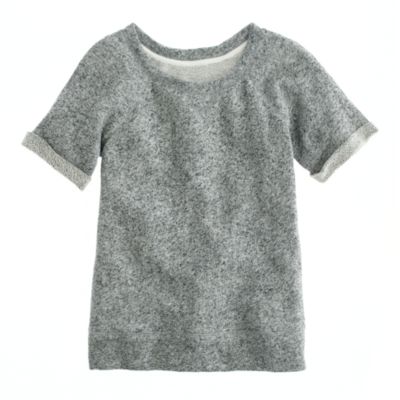 I was intrigued by this sweatshirt, but never had a chance to try it on. I was not sure if I would need a small or medium, so I took both to the fitting room.
Size Small
I thought Small was not slouchy enough and I prefer it bigger.
Size Medium
I did like the look of this sweatshirt a lot. I am not sure about the practicality, but I think you could also style it with a white button down, which I have plenty of. I liked the weight and texture of this top. I would actually wear it just like this, with white capris and my elephant necklace.
The difference between Small and Medium was minimal and it was still not very slouchy in size M and it did not ave too much room in the hips so I would say it runs rather small and I would recommend you go with your bigger size or size up, unless you are after fitted look.
Also, see it
HERE
on Ema.
***
That's all folks!
Do you like anything I reviewed today?
Do you know the trick on getting sunblock stains out of the white fabric???
Please share, it would be no fun without you!!!