I was MIA for the last couple of days because I have been very busy with work. But today I got a little break, since our team went on an outing in NYC. We did some rock climbing in the morning and then ate great lunch at
Carmines
restaurant (yummy!!!). After that, we were planning to go on a sailboat cruise around NYC, but since it was canceled, due to the rain, we decided to go bowling.
Since I actually planned and organized this event, I was stressing a little, because I wanted everybody to enjoy it, but it seemed like they did. I know I had a lot of fun, especially at the rock climbing/belaying lesson, which I never did before. Let me tell you, it was a little scary at first, but now I am ready to go again. I recommend it as natural team building activity and I hate those artificial 'build a bridge out of toilet paper' or 'let your team members catch you, as you fall of the table blindfolded' exercises with a passion.
So now I finally have a little time to do a quick post with couple of J.Crew reviews.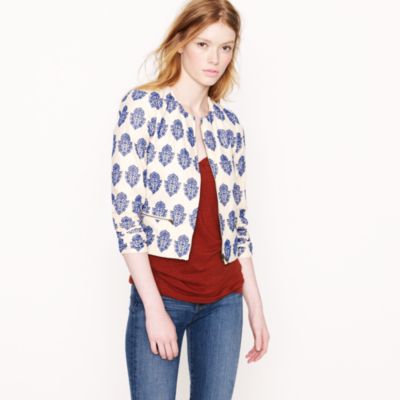 I was surprised how much I liked this little jacket. Those boxy cropped jackets never seem to work for me, but I loved the fit of this one. I tried both 6 and 8 and decided that I would prefer an 8. There was not much difference between them, but even if I could zip up the 6 it was feeling a little tight in chest and upper arms. An 8 was more comfortable and still looked OK and not too big in the shoulders.
Size 6
size 6
I LOVE the print, I think it is unique and flattering. It reminds me of something from Tory Burch. It is all cotton, both shell and the lining, which is very comfortable and must in the summer. I am not usually fun of zippers, but they are very subtle and I actually thought they created more streamlined look and did not distract from a beautiful print, like buttons would.
I am not sure where I would wear this jacket but it looks great with jeans. The print is memorable but I think because of the colors it is not too 'out there'. It is definitely spring/summer kind of print, so if you buy late in the season, it may not get much wear until next year. I wonder if it would work with blue Hilary dress?
This jacket definitely went on my wish list.
***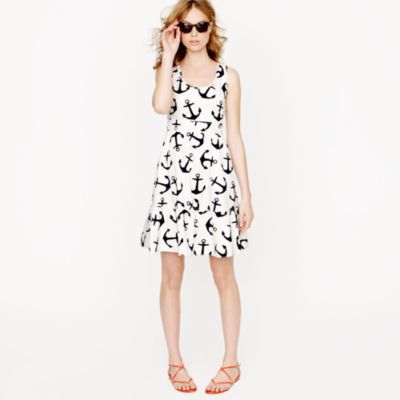 I saw this dress in my store few weeks ago, but I knew it will not work for me, so I never tried it, until now. My initial suspicions were confirmed. It is a cute dress but rather juvenile looking. The waistband falls right under my chest and then it flares from there baby doll style and it ends with a ruffle.
Size 8
Like the print, fabric and fit
I liked the fabric; 100% cotton, substantial but not stiff and it drapes well. It fits TTS, I took size 8 which I took in most J.Crew dresses this year and which is one size up from my usual size last year.

But it definitely looks young
Like I mentioned before, I am 'anchored out', but if you like the print, you may want to check it out. I thought it was actually rather flattering, high waist and all, just looked a little young. And I think it is way overpriced for a rather simple, cotton sundress.
That's it for today, but I have more reviews coming up, including couple of new items that will probably be a part of Thursday's rollout. I also checked out the sale section, but I didn't find anything I actually wanted to buy, despite some great deals out there.
***
Have you ever tried rock climbing?
Are you interested in the jacket or anchor dress?
Are you excited about the new rollout?
Have you scored anything on the recent 30% off sale?

Please share, it would be no fun without you!!!