The stores are still running 30% off the sale merchandise and the selection is quite good. Prices are currently way better than online, so if you live near the retail store, and your are not completely shopped out, it is definitely worth checking. I went mostly to do a bunch of returns, but also because I wanted to pick up the red Tessa top, now $49 before 30% off. I liked this top when I first tried it on (see
HERE
) and I was waiting for it to go on sale. My PS has put it on hold for me, but since I was already in store I browsed the sale section and picked up few other things to try on.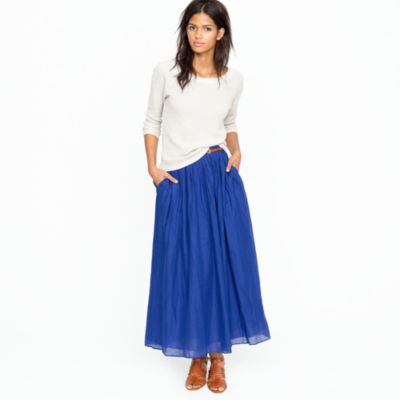 I was not a big fan of the Jardin skirt in general and especially the maxi version. I though it was too full and I hated the uneven hem. I tried it once when the knee length version came out and I confirmed my suspicions, it was a disaster on me. When the maxi version showed up in stores I didn't even bother to try it. That is until I saw it on Aureybella (in
THIS
post). I thougth she looked adorable and the skirt had such a nice vacation vibe, flowing in the wind, easy-breezy and dreamy. Alas, it was just the Audreybella doing the magic, because the skirt looked as bad on me as I originally feared.
Skirt size 6
Comparing to some other full skirts this one fits large and I could have easily worn my pencil skirt size 4, but they did not have it in store, so I tried a 6. It just had too much volume and it was overwhelming my frame. It was one huge mass of peasant skirt on me, nothing flowy or dreamy in sight. I could hide a flock of chickens there. And the tea length was akward on me, I think I would have preferred a true maxi. Sizing down would make it worse, because the skirt is already sitting pretty low on my hips. The volume would probably be reduced a bit which would have helped. I also did not care for the color and I think this is much better in the lighter shade.
The price was good, I think it was $59 (?) before the 30% off, but I am not sure if I remember correctly.
***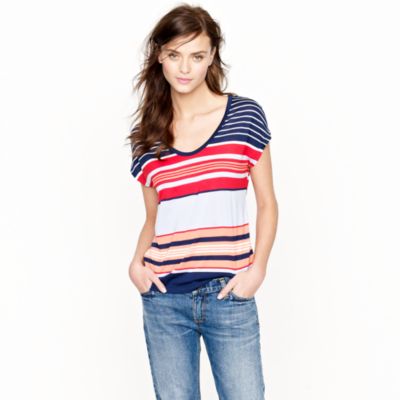 This was one of my picks from the last rollout. I like the slouchy shape and cheerful colors and thought it would be perfect with jeans. IRL it is quite pretty and the fit is OK but it is very thin and I don't think it is worth full price.
T-shirt size Small
It fits TTS, I am wearing a small which is my smaller t-shirt size and I think a Medium would be too low and too sloppy. It is not a bad tee but I was just meh about it. Oh well...
***
My PS put these shorts in my fitting room, I have no idea why, because it is definitely not something I ever pick. But since they were there, I tried them on. The color is pretty and they were comfortable, but the bow adds bulk in the waist, unless you tuck your top in. However, tucking something into knit shorts seem awfully dorky to me, and not in a good way.
Shorts size 6
I guess if I couldn't buy a $10 pair of knit shorts at Target I could wear this J.Crew version for hanging out on the couch in the summer. I never even noticed them on the website but I checked and they were originally $54.50!
Of course they re not your old knit cotton shorts. They are linen and the have a bow.
Whatever.
***
Unidentified colorblock top
This one was also reviewed by Ema
HERE
. I actually really like how it fits and the colors are gorgeous!
But it is 100% rayon and $128, so I will pass for now. Maybe if it goes on a deep sale?
Top size 6
It fits TTS and I like the fit better than on Talitha blouse. There is no buttons so it is just a pull on but I did not have any problems getting it on of off.
$128, 100% rayon
***
Size 6
I tried this dress some time ago (see
HERE
) in purple, but I was more interested in white.
Size 8
I tried on both 6 and 8 and decided that 8 was more comfortable. I was not sure if the eyelet and scalloped hem makes it too juvenile. I loved the fact that this is machine washable especially since it is white. And the price of $89 minus 30% is not bad.
I did not get it but I am kind of regretting it and contemplating going back to pick it up. Should I?
***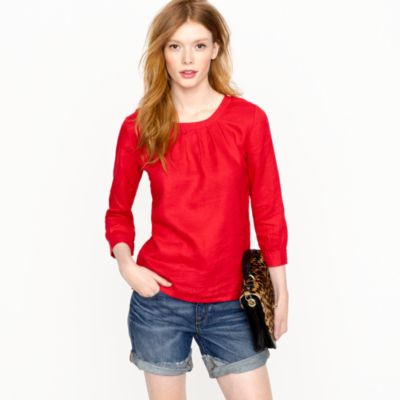 Size 6
***


That's all folks!
Have you bought anything from the 30% sale?

Please share, it would be no fun without you!!!