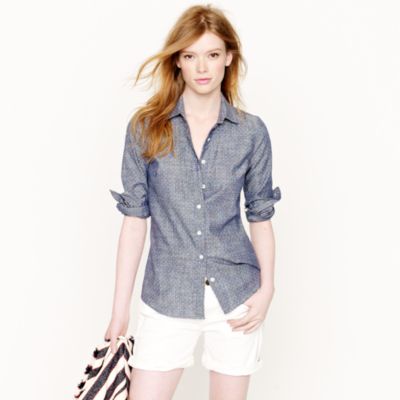 I saw this shirt in my B&M few days ago, and since I am always on lookout for the perfect chambray shirt I had to try it. I grabbed a 6, which is my regular size in J.Crew perfect fit shirts and it fits beautifully.
Size 6
The buttons in front are perfectly placed and not gaping which is sometimes a problem for me, but they just fit, with not much room to spare. I am 34D. The fit in shoulders, arms, waist and hips is great. The length is perfect and the sleeves are long enough but not too long on me. I think this fits like other J.Crew perfect shirts but it seemed even slightly more defined. It fits me the same way in the chest as perfect linen shirt in size 4 but I think it is the linen shirt that runs big, not this one running small.
LOVE!!!

The fabric is quite substantial but it drapes well. Polka dots are very subtle and add some interest. The color is nice, medium dark chambray blue, slightly faded, it goes with everything. Can you tell that I love this shirt?
I think this may be The chambray button front I was looking for.
I tried it with white capris, orange pencil skirt and fuller flower print skirt and it looked great with everything. It can be worn tucked in as it does not create bulk around the waist, but it looks sharp when untucked, as well. You can wear it now with rolled up sleeves, but of course it will work great in colder months.
I think this one is a winner . Hopefully, we will get some full price promo, so we can get a discount. Today, there is 10% rebate from
Shop at Home
. I think you can also get 10% off from signing up for J.Crew emails.
***
That's all for today folks!

I will have more reviews, links to previously reviewed items and my picks from the new arrivals up tomorrow, so please stop by.
Do you like the perfect shirt in chambray polka dot?

What caught your attentions in the newest rollout?

Please share, it would be no fun without you!!!