Yesterday, I saw some new arrivals from Banana Republic online that I wanted to check in store. They were running 40% off sale items and I have $30 in rewards cards, so I thought I will check if there is something of interest. I also visited Madewell and I will have posts about both store visits next week (some really nice finds, so please check it out).
Then I stopped by at J.Crew, just to visit my white Lucille dress and check how she is doing.
Lucille was doing just fine, hanging out with her friend in the sale section, but I lost interest in her (I am very fickle) when I spotted a bunch of Lilah dresses in my sizes.
I know DaniBP and Shopwithm both own a dress and like it so I have to give it a try. It is currently $129.99 minus 30% off.
size 8 and fitted at top
The eyelet detail on this dress is beautiful and it feels luxurious. The dress is lined in cotton and it fits me well. It is tiny bit high waisted but this doesn't bother me. The bodice is fitted but it has enough scoop not to be too demure. No armhole gaping. It has pockets and concealed back zip. It looks like a special occasion dress, but I think it can be dressed down with accessories and shoes. It would look good with a cardigan and I could wear it to work this way.
Back zip, pockets and lined in cotton
But I am still afraid it seems too precious and I would probably only wear it couple of times this year. I definitely do not need it, this is just a collector in me, because of how pretty the fabric is, it feels like a heirloom.
Now, Audrey had a very good point yesterday when she said the the question is "would I rather wear this, or ______ (something-else-comparable-that-is-already-in-my-closet)". Lets ponder over this for a moment. I have two other white dresses in my closet. One is the white Attache and the other one is crinkle chiffon, flapper style number, that I bought 2 years ago. Well, the Attache has a different purpose, I would only wear it to work, so yes, I would rather wear this dress when going out.
But the crinkle chiffon is another story. I LOVE this dress but somehow I did not find the occasion to wear it yet, so it has been sitting in my closet for two years. But I just thought of styling it with a black blazer or chambray shirt and I think I am going to wear it tomorrow. I have a date with my husband and we are planning to see the new Woody Allen movie and go out for diner and drinks after. I could wear the Lilah dress as well but I would rather wear the crinkle chiffon. Hmmm...
I think I should pass on the Lilah dress, I definitely do not need it. I have it on hold, so I have until this evening to decide, as I am not going to make it to the mall tomorrow and they are closed on Sundays. Do you think I wold regret not buying it? Please advice!!!
Also see the shopwithm review
HERE
.
***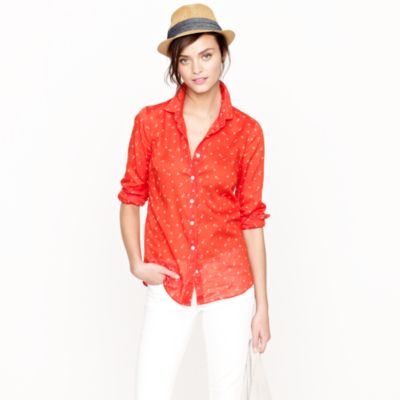 I am not big on anchors and mixing them with horseshoes seems a little random, but the shirt is rather cute. For some reason and I mad about red this summer, as I discovered that I can wear the shades J.Crew has been producing recently.
Size 6
It fits like most J.Crew button fronts and I do like the fit. It was gaping a tiny bit in a 6, but probably still wearable. I would get an 8 for more comfort, but it does not look as nice.
Like I said, the shade is gorgeous and the print is subtle. The fabric is not as soft as some J.crew shirts and it is thin and slightly see through, if you wear a printed bra for example, but it is OK with nude or red bra, or a cami, of course. Still, it is a cute shirt, especially if you are craving the color, like me.
I like it with Porcelain Paisley skirt
Btw, Porcelain Paisley skirt is on sale and at $69.99 ($99 with 30% off) it is a steal, imo. I love this skirt!
***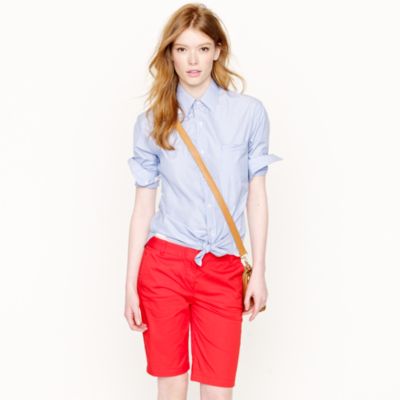 Shorts size 6
Since I have this red obsession, I also tried the chino shorts in belvedere red. They are cute. I sized up to 6 and there was no room to spare, so I'd say go with your bigger size. They are thinner than regular chino shorts, which I don't care for, as I like my shorts to be sturdy. I think they would be cute with many tops and great for vacation photos. They were still regular price, so I would wait for sale, unless you need them right away.
Personally, I would prefer the regular 7" chino shorts in modern red.
***
That's all folks!
What do you think of Lilah dress? Should I get it or is it a pass?
What are your plans for this weekend?
Please share, it would be no fun without you!!!