Have you picked up anything from the J.Crew sweater promo? It is ending today and it is a good time to pick up some fall basics at up to 30% off. I decided to get a navy Tippi cardigan and a long v-neck merino cardigan in black.
I have already reviewed the Tippi cardigan:
Size Medium, Review HERE
I think this is one of the best basic cardigans J.Crew came up with in the recent years. The wool is soft, the length is just right, the neckline is perfect and the arms are not too tight. They come in many beautiful colors but I was in a need of a basic navy.
Note on sizing: I have stated in my review that this sweater fits TTS. At that time I ordered a Medium and it was a good fit. However, when I was in store over the weekend, I tried on a Small and I actually liked the fit better. In any case, I don't think there is a big difference between those two sizes. The store matched an online price for me, which was great since I didn't have to spend $175 in order to get a free shipping.
Another sweater that I picked up was a
Classic merino long cardigan
.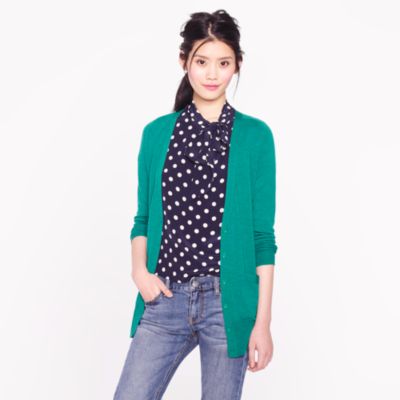 This marled jade shade is gorgeous but what I actually needed was a boring black. I thought longer cardigan would be perfect to wear with jeans and trousers. I like the idea of merino versus cashmere because I hope that it will pill less and of course it is much cheaper. I also prefer slightly lighter weight and warmth making it more versatile and 3-season wear.
Here are some pictures from the fitting room:
Size Small
I am glad that I was in the store because I would have ordered a Medium but this is a Small and the fit is perfect. So would say, this runs TTS to big, if you are in between sizes, go with the smaller size.
The length is perfect, it covers my rear without being too long and overwhelming. Again the wool is soft and the sleeves are not too tight. If you keep it open, the pockets add some bulk in the hip area. It does not bother me but it may be a concern to some.
Overall, I highly recommend both sweaters. I would love the longer cardigan in camel but I thought the marled camel shade that they have was unappealing to me. The marled effect makes it dull and drab imo. I was hoping for a more clear golden tone but this one has a lot of gray in it.
I am tempted to add a Tippi in black and long cardigan in navy but I shall contain myself.
Another update: do you remember the Sweater from Look #16?
I have previously stated that it is probably a blend but I have finally checked the tag in store and I am happy to tell you it the 100% merino. It is still not online but probably coming soon.
Tomorrow I will have some new arrivals reviews. I tried on a new camel/black blazer, french hen silk shirt, a new marled black sweatshirt. Plus a review of Jean Shop jeans, bootcut cords and my quest for perfect jeans continues. I am expecting my 30% packages, including bunch of pencil skirts, a collection dress and some other items, I cannot even now remember what I ordered, isn;t that horrible? But nothing was final sale, so I will probably return more than I will keep. Unexpectedly, I also found some great stuff at Anthro! Stay tuned this week, for all those reviews!
***
That's all folks!
Did you pick up anything at the sweater promo or have you received your 30% off orders?
Have you tried the Tippi cardigan or Classic Merino Long Cardigan?
Please share, it would be no fun without you!!!