"Handmade one at a time in the heart of NYC and crafted from exclusive Japanese selvedge that's woven on old-school narrow looms..."
Do you ever fall for those stories? I am a total sucker for them... This is how I ordered my
The Jean Shop® women's skinny jean in dark wash.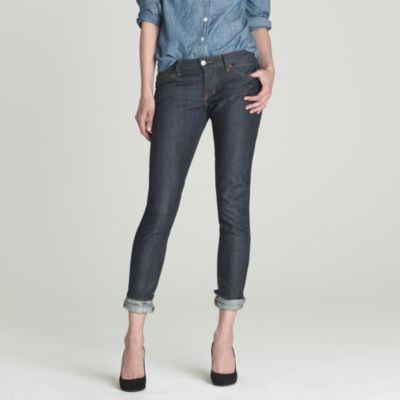 At least, since the jeans were part of the dreaded final sale, I had some sense to chat with Customer Service and ask them to make a note on my account, allowing me to return in case they don't fit.
Well, few days later, the jeans arrived and I was very excited to try them on. This was going to be the real deal and I was not your average mall shopper. No, I was a member of a secret society, possessing the rare knowledge about the whereabouts of most authentic denim in the world. What better place to hide than the J.Crew final sale section?
Size 28
OK, the denim
is
very nice. It feels stiffer and more substantial and hard core and the seams are finished with the orange selvage strip that looks very nice when cuffed. I loved the wash and the orange stitching and the birthday date (of my jeans, no less) handwritten in black marker on the inside of the pocket. Gave me that 'cooler than thou' feeling ;)
But the fit was just OK There was some bunching going on and some not so flattering creasing in the hip and crotch area and overall, I think they are cut for someone a little more curvy than I am.
I wear size 27 in J.Crew matchsticks but I heard those jeans run small, so I ordered a 28 (27 was not available anyway). They had too much room in the hip but I am afraid the 27 would have been too tight everywhere else.
From the back, they have an old school boyish fit, charming if you are cute twenty something hipster but certainly not a pair of jeans that will stop my husband in his tracks when he sees me going up the stairs.
Well, the fit is king and I decided these were NOT my 'Sisterhood of Travelling Pants' jeans.
These were OK jeans but I thought that even my old BR skinnies looked better on me:
Size 6
Still, I was afraid to return them. What if I am so pedestrian I just don't have any idea how the real deal, secret society jeans should fit?
So just in case I took them with me to the mall while I tried on endless other pairs. I went to Nordstrom and to Neiman Marcus then to a Seven's store and then to Anthropologie. I tried on about 30 pairs of Joes, JBrand, Citizens, Sevens, Paige, AG, Rag & Bone and Pilcros. They all look better than the Jean Shop.
I liked the fit of JBrand and Sevens the best. Still reluctant to shell out $$$ for non-secret-society denim, I even stopped at the Gap, just to check if by any chance their under $50 (with coupon) pair of jeans is just as good as $200 designer duds. They weren't. They felt like the-under-50-jeans. OK, I got it.
I decided to stop at Anthro and try on the Pilcros Stet, I liked last time I tried them, but this time in the slim bootcut.
Yes, please!
Rear view
Husband approved
slim flair
I decided this is as close to Sisterhood jeans as I will ever get. But better yet, they were on sale.
$79.99!!!
This is where I got sucked in to add a tee and a skirt, but you already know that story...
And now I really want a pair of cords in the same cut (they have them!) but I am waiting a for a similar sale/promo.
***
That's all folks!
Have you tried Jean Shop or Pilcro Stet?
Do you think the cords will go on sale? Please say yes! When??
Please share, it would be no fun without you!!!