Here are reviews of four dresses I took to the fitting room when I tried the Porcelain Paisley skirt: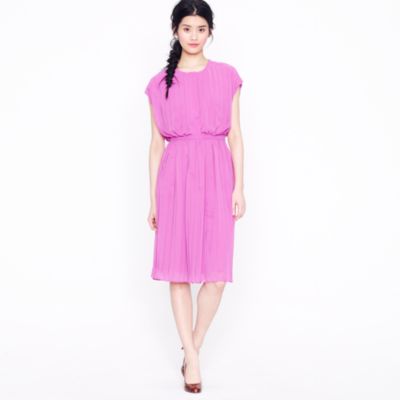 Size 6
The color of this dress is beautiful. The length is good. Fits TTS, maybe a little large compare to other dresses this year, but I think it is mostly due to the blouson effect, I have to size up to an 8 this year, in many dresses, to accommodate my chest.
The shape is rather unflattering, at least om me. It is made of 100% Polyester. It is $350. It has thousand little buttons, zippers and hooks to close/open. OK, not a thousand, but it closes in front, plus it has a side zipper and side snaps and hooks in front. Not a great dress for doing fitting room reviews ;)
Pretty color
I think this is seriously overpriced. If I saw this dress in Marshalls, I don't think, I would stop to look. And if I checked the fabric content anything over $35 would seem like too much.
My 9yo daughter looked at the pictures and this is her verdict:
"This dress is weird, Mom. Puffy everywhere and with that stupid elastic in the middle"
Listen to the youth, like Gigi said. Words of wisdom.
$350 for polyester??? I don't think so!
***
Size 8
This dress was pretty but I am not a fan of puffed sleeves, they make me feel ridiculous and fussy. It runs big. I first tried on an 8, which was way too big and then a 6, which was better but still plenty of room in the hips. I thought it made me look wide. The sash is silly, but removable, so you can swap it for regular belt. The neckline is wide, but the sleeves come with bra snaps to keep the straps in place, a definite plus with this design.
I liked the fabric and the length is good. If you don't mind the puffed sleeves it may be a nice party frock.
Opinion of the youth: "Princess dresses should have a full skirt". She is convinced puff sleeves belong with princesses. "But we are all princesses inside" I tried to convince her. "That's nonsense, Mom" kids will snap you back to reality very quickly.
For another take see the dress
on shopwithM,
she looks great in it!
***
Unidentified striped silk dress
Size 8, TTS
This little number is 100% silk and it fits TTS. Maybe it will for for Petite ladies, but on me it was too high waisted and too short. It did not feel right to be made of silk and lined in poly. The shape and stripes suggests easy vacation frock, but the fabrics confuse me. Maybe if it was cotton jersey, a little longer and half the price? Of course that would be a different dress altogether, lol.
My 9yo fashion expert verdict: "Too simple and boring."
Too short!
$148, 100% silk, lining 100% poly
***
SIZE 6
Size 6 in this dress was definitely snag across the chest and I would need an 8 in this one. Other than that, the fit is good and if I did not have an Attache white dress I would definitely consider this one.
77%cotton, 23% linen, lining 100% poly :(
For those of you that like longer dresses this one is plenty long. The fabric looked wrinkly in the store, so definitely consider that, if wrinkles bother you. I did not like the poly lining. The bow detail in the back is very pretty. Nice thing is that while showing some skin, you can still wear a regular bra.
My daughter decided this one is "too white, like a wedding dress". I wish they would make it in other colors, I think it would look great in black.
***

Do you listen to your kids opinions about your clothes?
Are in a market for a summer frock?
Do you like any of these dresses?
Please share, it would be no fun without you!!!