Size Medium
I don't see this striped t-shirt on the website but it is vintage cotton type, slightly sheer, slouchy fit and short bat sleeves that are just continuation of body with no seam. It is very basic and nothing special but I kind of liked its slouchy fit .
***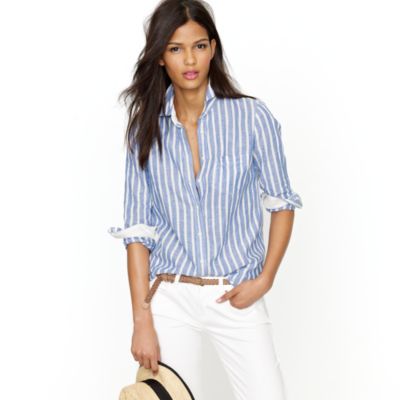 J.Crew has it styled with orange pants
This linen perfect shirt fits TTS. I usually take a 6, but they did not have it in the store, so I tried an 8. It was slightly loose on me, but still have enough shape to keep it from being sloppy. I liked to have some extra room in the chest, but if you want something more fitted, go with your regular size.
TTS
The linen/cotton blend would be perfect for the summer. Since it is definitely menswear inspired, I think it will work better on those of us who have some curves up top, or if you are just going for that tomboyish vibe.
long enough to stay tucked in
***
I have heard many JCAs raving about the Nolita jacket but I never had a chance to try it. When I took it to the fitting room I realized why it is well liked. The denim is very soft and it feels great. The shape is feminine and would work with pants skirts and dresses alike. The wash is a nice medium dark.
Size Small
The jacket is nicely shaped but oversized, I think it would be size down for most people. My regular size Medium was too roomy on me and it did not look right. However, size Small was pulling a bit across the chest. I liked the slanted chest pockets, fitted waist and cropped design.
pulling a little across the chest in size Small (I am 34D)
I am generally not a fan of J.Crew denim and I consider it very mediocre quality and seriously overpriced for what it is. But is think this little jacket is worth the money. Unfortunately, I am in between sizes.
***
These sandals were in sale section, priced at $59 and with additional 30% off. It seemed like a great deal and I need a pair of comfortable black sandals, so I thought I would give them a try
Size 8.5, TTS
I did not like all these straps. And that additional ankle strap added to Union Jack effect.
They were quite comfortable with a wedge that is not too high. The suede looks like nothing special in black, but it was soft and would mold to your feet. The lining is man made but it did not seem too slippery.
They looked sligthly better with jeans, maybe because you don;t see the ankle strap (see above in last picture with Nolita jacket) But what I really didn't like was how they looked from the back.
Nevertheless, I was tempted to buy them just because they were on deep sale, but I decided to leave them behind, especially since they would be final sale. I decided that the price seems great only in J.Crew world, because in reality, other stores are filled with shoes that are also 'not quite there' , priced about the same.
If I wouldn't buy them at Macy's or Lord & Taylor, why should I buy them at J.Crew?
***
Do you own or like any of the items I reviewed today?
Do you wear denim jackets?
Do you buy stuff just because it seems a great deal?
Please share, it would be no fun without you!!!