Have you checked out the J.Crew new arrivals and June Style Guide? In case you haven't received the June catalog, Gigi has scanned it for us
here
. Thank you Gigi!
I have received the catalog and I quite like the looks. The Tanzania setting certainly adds to the appeal but does not come with the clothes, unfortunately ;) I have browsed through the pages and I liked quite a few of the outfits. Then, I realized that I liked them because I already own the pieces and wear them often. So yeah, white looks good with denim...
but how come I don't own light wash jeans???


Don't worry, that's binoculars, not a gun
substitute animal print clutch for the wildlife...
I knew it!
White goes with black...
Even if I am not so wild about the Minnies... I do want the silver sandals. But I would look for a better value point.
Moving on from the basics, let's talk about the prints.
I like the Hawaian shirt but I have too many button downs and long sleeve may not be that practical for a NJ summer.
The shorts are cute but I have not worn my last year's Apple shorts enough, so I think I will pass.
Now, I want this print in the knee length full skirt. Because I am still stuck on this image, that I saw a while ago
posted by FFM
:
Of course, if JC made it, it would be a 'Collection' piece with exorbitant price, like this: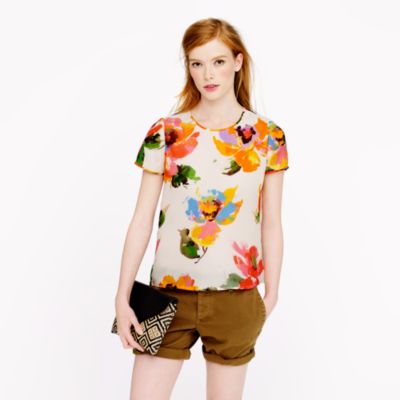 Fortunately, I don't lust after this one. And am I loosing my eyesight or do you see a pocket?
I liked the bridal section shots with the flower background.
Note to self: I need to position myself next to flower displays more often...
***
That's all folks!
What do you think of the new arrivals?
Please share, it would be no fun without you!!!