Sometimes you live your whole life without some iconic, everybody-needs-one, no-closet-is-complete-without item. And you never notice that you were missing it. Until one day you do.
This is how I decided I needed a red dress.
OK, so maybe this is not the same as not owning a Little Black Dress. I am always looking for The Elusive Perfect One but sadly, I will most likely be buried in the Almost Good Enough One. At least, I already own my snakeskin red Valentinas shoes to go with it.
The Red Dress is an epitome of feminine confidence and sexiness and suddenly I wanted to try it before I officially transition into the grouchy old lady mode. Btw, thank you wellfedfred, for opening up this possibility for me, it is a godsend. But however appealing this transformation may be, grouchy old ladies do not wear pretty frocks, do they? I am probably wrong, I bet they wear whatever they damn please. I am really starting to look forward to it...
But before I get there, I had my office Holiday party to attend. It is a nighttime even with 'festive attire' dress code. Most women come in in all out party dresses, there is always plenty of sequins and cleavage. The event is in a country club type setting with music and dancing and plenty of booze. I always donned a black dress but this year I wanted to wear something different. I wondered if the Emmaleigh dress in poppy grove may fit the bill. I like the shape of this dress and I have owned three of them (in gray, black and camel). In neutrals, they are not party appropriate but I though that the red color could make a difference.
Size 8
My cotton gray version of this dress is size 6 and a perfect fit but the wool ones did not have any room to spare, so I decided to try an 8. In 8, this dress is very comfortable if a little too big all over. Still, I think this is better size and I wouldn't have to worry about eating too much.
The fabric is 120's wool. If I ordered it for the office wear I would have complained that it is very thin but for a party wear it is actually an advantage. It does not even feel like wool.
The color is beautiful soft red, definitely more pink/coral than orange. I think it works well with my complexion. Overall, it is a pretty dress and it could be dressed down with a cardigan and a pair of boots. It would be a nice option for a dinner date too.
I am just wondering if it is 'festive' enough for a party. I have to say I quite like it. What do you think?
***
On another note, J.Crew new arrivals are online today.
Here are some items I already reviewed: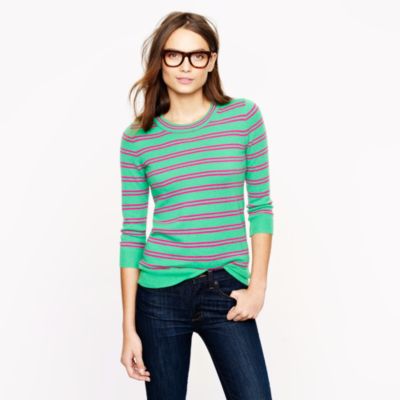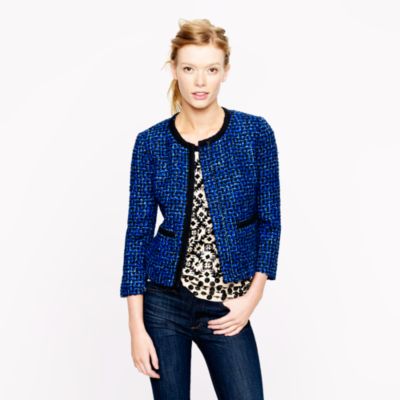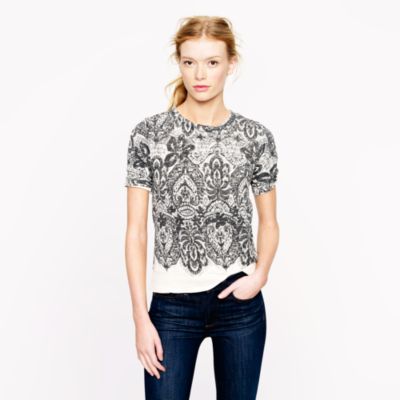 Items I already tried on but have not reviewed yet: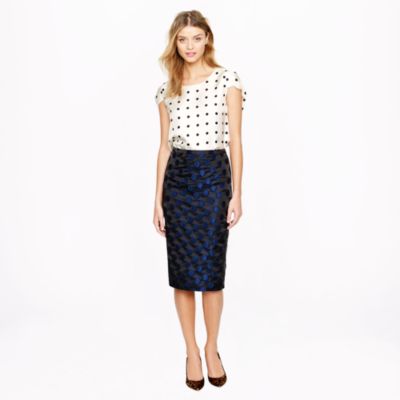 This skirt fits TTS, my regular size 4 was a good fit. But fabric is stiff with no give and I did not like it. It is 97% polyester, 7% nylon, lining 100% polyester. It is longer that double serge wool pencil skirts. Dots are not lined up on the sides but it does not look terrible because of the small color contrast. I was underwhelmed. Sorry, but not even on sale.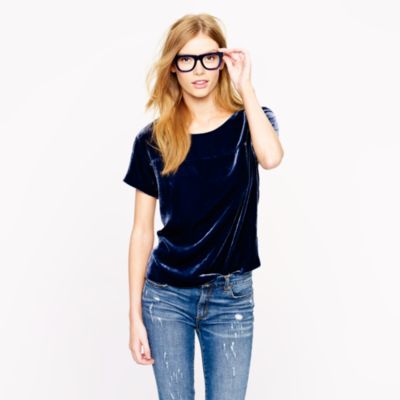 I really liked it on a hanger and thought it would be perfect for the Holidays. But it is very boxy and short on. And this is coming from a short torso person, I rarely complain about too short length. Fits TTS, I tried a 6 and it was good with the boxy fit. Unfortunately it is not cotton velvet but 82% rayon, 18% silk. The color is also much duller irl than in pictures. It was also a pass
If you are wondering why I don't have pictures, it is because the manager in my store asked me not to take them. She said she was asked by corporate J.Crew to tell me. She said clothes are property of J.Crew until I buy them. OK then, it is definitely not like those pictures are flattering. I am not easily intimidated but I also don;t want to fight with them. So I am sorry if you are disappointed, but no more fitting room pictures. I am disappointed too. Not necessarily because of the pictures but in the way they handled it. It would be more classy to send me email through my blog. Oh well...
***
Have you tried Emmaleigh dress from J.Crew?
Do you think this can work as a party dress or is it too chaste?

What do you like from the new arrivals?


Please share, it would be no fun without you!!!